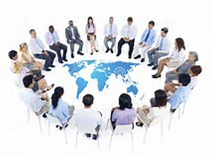 Members of "vitiligo patient organisations" around the world work tirelessly day in and day out to raise awareness of vitiligo and its consequences, and to provide support and comfort to sufferers and their families.

These leaders and organisations tend to operate within a country or even a city, at a grass roots level, isolated from the international community and unable to participate in a broader effort to achieve goals on a global scale. It is time to reset what is achievable through greater transnational cooperation.

It is crucial that the leaders of vitiligo patient organisations meet in order to:
 Establish the current state of play in the care of vitiligo across the globe;

 Share best practice processes and tools as used in respective countries;

 Equip leaders for their role in advocacy and public education;

 Strengthen links with researchers and pharma companies to assist in the development of highly effective therapies;

 Develop a cooperative strategy to argue for a better global effort to meet the needs of vitiligo sufferers.

Jean-Marie Meurant
President VIPOC
Patient leader of French Vitiligo Association (AFV for Patients by Patients)