European Advocacy For Vitiligo
3rd VIPOC Conference 2022
Amsterdam
Bring together organizations/groups of vitiligo patients to make their voices heard better. One voice for vitiligo
Support and represent vitiligo patients in all national, regional, and international bodies, educate the public.
Help and support researchers, collaborate with pharma industries, participate in clinical trials to help develop new therapies.
Vitiligo International Symposium (VIS) Bangalore, India
The Vitiligo International Symposium (VIS) was held from December 9th to 11th in Bangalore (India), organized by the Global Vitiligo Foundation (GVF), with the help of Shweta Organization. It brought together nearly two hundred people, doctors, researchers, dermatologists, the greatest vitiligo experts, laboratories, and patients representatives, from all over the world. View VIPOC presentation
Vitiligo International Patient Organizations Committee is the worldwide alliance of vitiligo patient organizations build in 2018 during the first Vitiligo International Patient Organizations Conference and is now an official NGO based in Paris.
VIPOC Member Organizations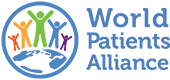 Are you a Vitiligo Patient Leader? Join now to become a member.