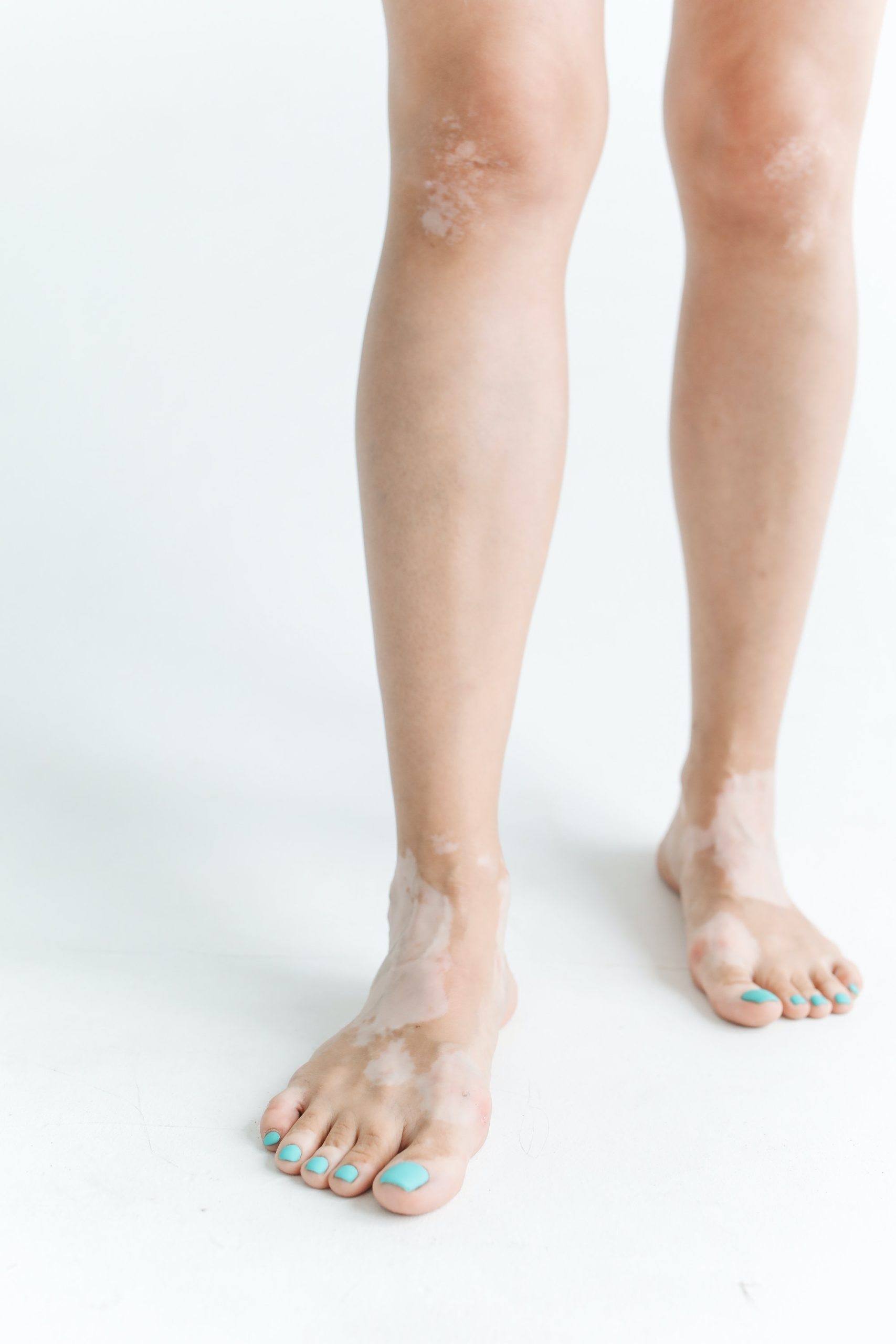 Abstract
Vitiligo is a T-cell mediated skin disorder characterized by progressive loss of skin color. In individuals genetically predisposed to the disease, various triggers contribute to the initiation of vitiligo. Precipitating factors can stress the skin, leading to T-cell activation and recruitment. Though hereditary factors are implicated in the pathogenesis of vitiligo, it is unknown whether precipitating, stressful events play a role in vitiligo. To understand this, we utilized a validated perceived stress scale (PSS) to measure this parameter in vitiligo patients compared to persons without vitiligo. Additionally, we probed a clinical database, using a knowledge linking software called ROCKET, to gauge stress-related conditions in the vitiligo patient population. From a pool of patients in an existing database, a hundred individuals with vitiligo and twenty-five age- and sex-matched comparison group of individuals without vitiligo completed an online survey to quantify their levels of perceived stress. In parallel, patients described specifics of their disease condition, including the affected body sites, the extent, duration and activity of their vitiligo. Perceived stress was significantly higher among vitiligo individuals compared to those without vitiligo. ROCKET analyses suggested signs of metabolic-related disease (i.e., 'stress') preceding vitiligo development. No correlation was found between perceived stress and the stage or the extent of disease, suggesting that elevated stress may not be a consequence of pigment loss alone. The data provide further support for stress as a precipitating factor in vitiligo development.
Figures
Citation: Henning SW, Jaishankar D, Barse LW, Dellacecca ER, Lancki N, Webb K, et al. (2020) The relationship between stress and vitiligo: Evaluating perceived stress and electronic medical record data. PLoS ONE 15(1): e0227909. https://doi.org/10.1371/journal.pone.0227909
Editor: Naoki Oiso, Kinki Daigaku, JAPAN
Received: August 22, 2019; Accepted: December 22, 2019; Published: January 27, 2020
Copyright: © 2020 Henning et al. This is an open access article distributed under the terms of the Creative Commons Attribution License, which permits unrestricted use, distribution, and reproduction in any medium, provided the original author and source are credited.
Data Availability: All relevant data are within the paper and its Supporting Information files.
Funding: CLP, RO1CA191317, National Cancer Institute; https://www.cancer.gov/ The funders had no role in study design, data collection and analysis, decision to publish, or preparation of the manuscript.
Competing interests: The authors have declared that no competing interests exist.
Introduction
Vitiligo is an acquired skin disorder characterized by a progressive loss in skin pigmentation due to the loss of melanocytes, the pigment producing cells in the skin. Among other tissues, melanocytes are present in the inner ear, eye and mucosal membranes [1–3] and, are therefore, also affected due to vitiligo [4]. Vitiligo affects around 0.5% of the global population and, although all ethnic groups are similarly affected, it is more noticeable and more severe in dark-skinned individuals [5, 6]. While the onset of vitiligo usually occurs during adolescence [6], individuals developing vitiligo during adulthood have been reported [7, 8]. Though hereditary factors predispose patients to depigmentation, in adult onset vitiligo, a relatively greater contribution to disease etiology can be attributed to stress [9, 10].
Vitiligo predisposition is defined by variant sequences at loci associated with both the innate and adaptive immune system as well as to loci associated with melanogenesis and apoptosis [11–15]. Precipitating factors have been acknowledged, including exposure to sunlight or skin trauma, leading to oxidative stress in melanocytes [16–19] and T-cell mediated autoimmune responses [20, 21]. Indeed, while vitiligo has been established as an autoimmune entity, [21], the mechanism connecting the initiating event(s) to the induction of anti-melanocyte T-cell immunity is unknown.
Physical or environmental stressors are reported in the onset and disease progression of vitiligo [22–24]. In the event of a sunburn or exposure to certain chemicals or skin trauma, free radicals and hydrogen peroxide are generated [25], and in individuals who are predisposed to vitiligo, this leads to an activation of the immune system that generates melanocyte-specific cytotoxic responses. Heat shock proteins (HSP) are cellular stress response proteins that protect a cell under stressful conditions [26]. Notably, among the family of HSP, inducible HSP70 (HSP70i) is secreted by live cells under stress [27]. Previous work from our lab showed a critical role of HSP70i from the melanocytes in accelerating autoimmune vitiligo [28, 29]. Stressed cells secrete HSP70i and in the extracellular milieu, HSP70i can activate dendritic cells (DCs) and aid in antigen cross-presentation [30], resulting in cytotoxic T cell responses to melanocytic antigens.
Psychological stressors also play a role in vitiligo [23, 24]. Events such as death of a family member, work and financial problems have been associated as preceding factors to the onset of vitiligo [24]. In addition, vitiligo patients experience severe psychological effects [31, 32] and exhibit anxiety [33], depression [13], social stigma [34] and impaired quality of life [35, 36]. Stress increases the levels of catecholamines, neuropeptides, and cortisol that are higher in vitiligo patients [37–39] suggesting their role in the pathogenesis of vitiligo.
To understand the association of stress in vitiligo patients, in this study, we used a validated questionnaire [40] to assess levels of perceived stress (PSS) [41] in vitiligo and healthy age- and gender- matched individuals. Patients were asked some additional questions about their condition, and ROCKET software was used to probe a patient database to explore the prevalence and chronology of stress related conditions among vitiligo patients. The data serve to correlate stress and vitiligo, providing support for the concept that stress can influence progressive depigmentation of the skin.
Discussion
To understand whether vitiligo associates with stress, the PSS and ROCKET analyses in our study newly revealed that 'metabolic' stress precedes and might thus contribute to vitiligo. Indeed this is in line with studies suggesting environmental and psychological stressors are triggers for the onset and progression of vitiligo [24]. Although the exact mechanism(s) by which stress influences vitiligo remains unknown, as discussed earlier, both environmental and psychological stress result in autoimmune vitiligo [21].
The PSS questionnaire is a validated tool to measure perceived stress and several studies have used this tool to estimate perceived stress in patients, including those with autoimmune disease [58, 59]. Among the vitiligo patients who participated in this study, female patients perceived significantly more stress than male patients did. Other studies have also found female patients to be increasingly impacted by stress [22, 31]. Whether women are more conscious of their stress or there are other underlying factors that attribute to their perception remains uncertain. In vitiligo, the depigmentation itself can also cause stress and in fact, self-reported depigmentation was the highest on the face and hands (S1B Fig) supporting this former notion. In the current study, neither age, nor duration of vitiligo or disease status were associated with perceived stress. PSS only measures a person's perception of stress over the past month. It does not capture cumulative stress and it does not capture the quantity of negative life events. Thus, this limits the ability to make any inferences as to the role of cumulative life stress, which is more likely to influence vitiligo development and/or progression. It is also likely that social support and adaptive coping may buffer the impact of stress associated with vitiligo, which may explain why levels of perceived stress did not associate with vitiligo duration or characteristics.
Stress and stressors can have a profound impact on autoimmunity [60]. The timing and release of stress hormones regulate the pro- and anti-inflammatory cytokine balance that dictate immunoprotective or immunosuppressive activity [61, 62]. Acute or short-term stress results in an immunoprotective environment whereas chronic or long-term stress commonly result in an immunosuppressive environment [63]. Chronic stressors can, however, also promote a proinflammatory environment, resulting in dysregulated immune responses that might lead to autoimmunity [63, 64]. A limitation in this study is that no biochemical assays or cytokine profiles were investigated for these patients to correlate them to the PSS or vitiligo questionnaire. However, perceived stress did not correlate with disease state or duration. As stress hormones are increased in vitiligo patients [37, 38] and a cytokine imbalance has been assigned to oxidative stress in melanocytes, the data collectively prompt studies of a role for chronic stress in disease development.
The ROCKET analyses revealed a bimodal age of vitiligo diagnosis with the first age group peaking around 10–20 years and the second age group peaking around 50–60 years. First presented by us at the International Pigment Cell and Melanoma Research Conference in 2017, a recent GWAS study has since solidified this finding regarding vitiligo onset [65]. Diagnosis occurring at two different phases of life could implicate different etiological factors. Frequency of a stressful event was higher among adult patients compared to childhood onset [9], suggesting that stress is a precipitating factor particularly for adult onset vitiligo. In fact, the death of a loved one and work/financial problems are the most common stressful life events reported among adult vitiligo patients, and such events are consistently associated with a poor quality of life and depression [13, 66]. While the percentage of population affected and the odds of having depression were higher among vitiligo patients, the percentage of patients that were diagnosed with depression prior to and after vitiligo were similar in our study. This suggests that depression is neither a causative factor nor a consequence of vitiligo, but rather these conditions may share a common etiological factor. Metabolic syndrome is a cluster of disorders presenting with aberrant metabolism resulting in an increased risk of cardiovascular disease [51]. Chronic stress and stressful events present with a high risk of metabolic syndrome [67–69], and vitiligo patients are at a higher risk of developing metabolic syndrome [46, 70]. Consistent with previous findings, the ROCKET analyses revealed that the percentage of patients and the odds of developing metabolic disorders, hypertension and hyperlipidemia, were higher among vitiligo patients (Fig 5), and these disorders are linked to oxidative stress and autoimmunity [71–75]. Similarly, the odds for being prescribed statins and beta-blockers for cardiovascular disease, the major risk for metabolic syndrome, were higher for vitiligo patients. Taking into account the timing of diagnosis, patients were more frequently diagnosed with hypertension and hyperlipidemia, and more frequently so prior to their vitiligo diagnosis. This was accompanied by a greater percentage of patients prescribed statins and beta-blockers prior to their vitiligo diagnosis. A limitation of the current ROCKET analyses was that only a subset of comorbidities were available for analysis of the vitiligo patient cohort. Further, lifestyle factors, such as health behaviors, are important factors that contribute to the chronic diseases we probed, and must be considered in future studies investigating any associations of these diseases with onset and progression of vitiligo. Collectively, our data suggest that metabolic stress might be involved with the onset and progression of vitiligo. This prompts further analysis, including measurement of physiologic parameters.
In conclusion, the findings from this study indicate that vitiligo patients have high levels of perceived stress. In patients predisposed to vitiligo, metabolic and psychological stress might influence the onset and progression of vitiligo.
Image Credit: Polina Tankilevitch