L'Association française du vitiligo was created in December 1991.
Since then, the volunteers of the French Vitiligo Association- patients or relatives of patients with vitiligo and deeply committed to a common goal- are active in representing and defending patients, in the public sphere as well as in their private or professional life.
Our main objectives
Provide people with vitiligo with moral support and attentive listening, inform them as well as possible about their disease (precautions to be taken, associated diseases, etc.) and on the advances in scientific research surrounding vitiligo.
raise awareness among the general public about vitiligo disease and its psychological impact on the patient's life.
represent vitiligo patients with official institutions, to legitimize their care path in their current approach towards a much-desired cure.
stimulate and encourage scientific research, find funding
develop the international alliance of foreign associations of patients suffering from vitiligo, in collaboration with researchers and doctors from all over the world.
Our management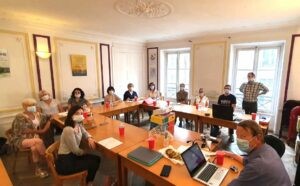 Board meeting
The French Vitiligo Association is chaired by Ms Martine Carré, and supported by a Board of Directors, in close collaboration with a Scientific Committee.
Our main activities
WORKSHOPS
Corrective makeup Workshops
"Well-being with Vitiligo" days,
Sharing and Support Group
MEETINGS -CONFERENCES
The Annual Vitiligo Meeting (RAV- Rencontres Annuelles du Vitiligo) for our members and the participation of researchers and doctors, invited to communicate about their studies and exchange directly with the participants.
Active participation in national and international conferences, symposiums.
TOUR DE FRANCE (see VIPOC site)
 Our communication tools
Newsletter, Social media networks (Facebook, Twitter, Instagram) YouTube Channel, Hotline
ASSOCIATION FRANCAISE DU VIILIGO IS a MEMBER OF