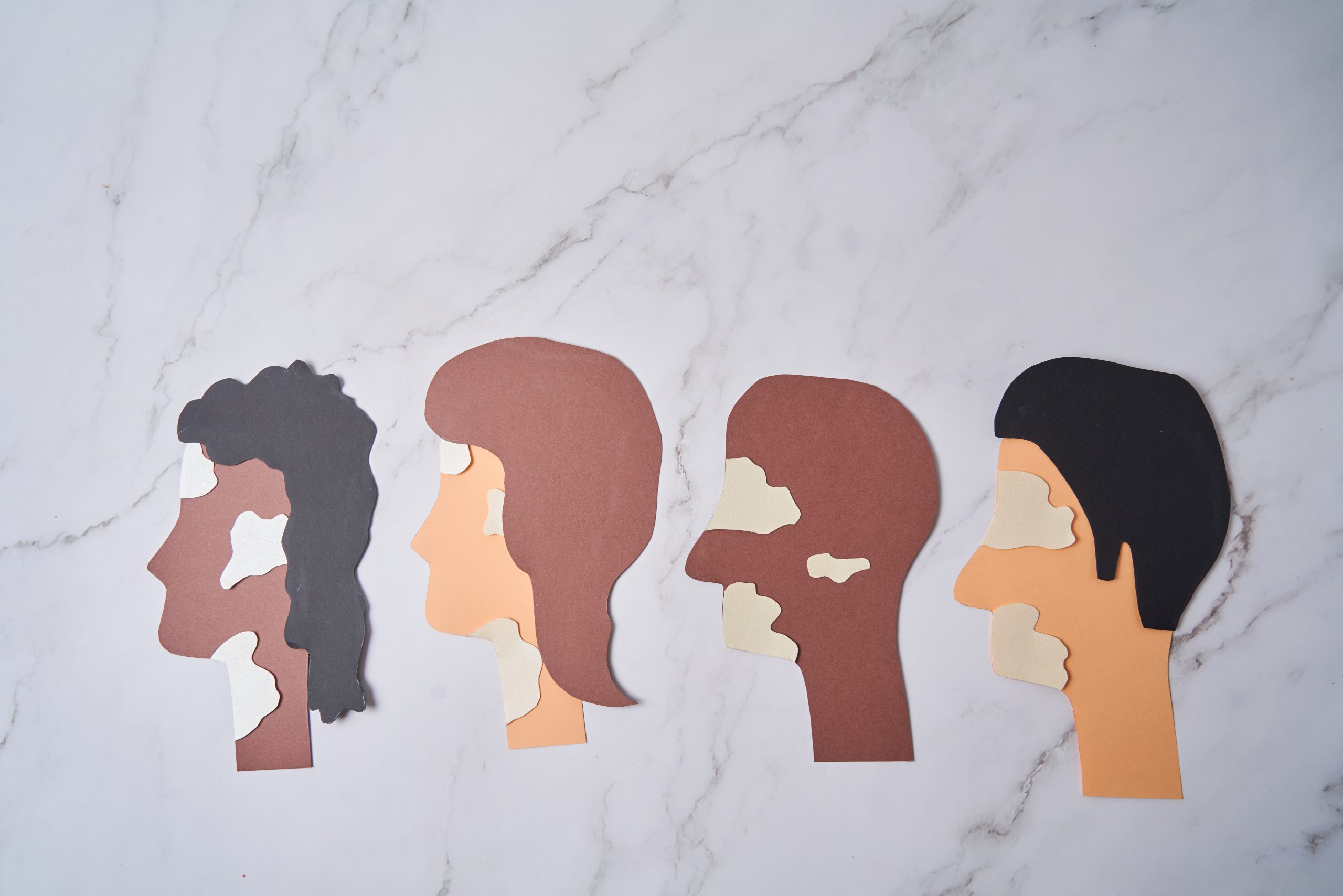 Abstract
Background
The treatment of vitiligo can be challenging. Up-to-date agreed consensus recommendations on the use of topical and systemic therapies to facilitate the clinical management of vitiligo are currently lacking.
Objectives
To develop internationally agreed-upon expert-based recommendations for the treatment of vitiligo.
Methods
In this consensus statement, a consortium of 42 international vitiligo experts and four patient representatives participated in different online and live meetings to develop a consensus management strategy for vitiligo. At least two vitiligo experts summarized the evidence for different topics included in the algorithms. A survey was then given to a core group of eight experts to resolve the remaining issues. Subsequently, the recommendations were finalized and validated based on further input from the entire group during two live meetings.
Results
The recommendations provided summarize the latest evidence regarding the use of topical therapies (steroids, calcineurin inhibitors and Jak-inhibitors) and systemic therapies, including steroids and other systemic immunomodulating or antioxidant agents. The different modalities of phototherapies (NB-UVB, photochemotherapy, excimer devices and home phototherapy), which are often combined with other therapies, are also summarized. Interventional approaches as well as depigmentation strategies are presented for specific indications. Finally, the status of innovative and targeted therapies under development is discussed.
Conclusions
This international consensus statement culminated in expert-based clinical practice recommendations for the treatment of vitiligo. The development of new therapies is ongoing in vitiligo, and this will likely improve the future management of vitiligo, a disease that still has many unmet needs.
INTRODUCTION
The treatment of vitiligo can be particularly challenging. Clear guidelines for choosing among the therapeutic options available are important given the variable response rates. Long-term treatment is usually necessary due to the high relapse rate and chronic disease course.1 In recent years, systemic treatments (including the emerging use of JAK inhibitors) have gained increased attention.2 However, while disease stabilization is a likely outcome for most patients, repigmentation rates remain variable. In part 2 of this international consensus statement, recommendations for the use of topical and systemic treatments are outlined in more detail. It should be noted that many vitiligo therapies are not licensed and can only be prescribed 'off-label.'
MATERIALS AND METHODS
In order to reach a broad international consensus, a consortium of 42 international experts and four patient representatives participated in this consensus effort. To summarize the up-to-date evidence on vitiligo, each topic was assigned to a writing group (ranging from 3 to 8 members) represented by at least two vitiligo experts who searched the literature and provided the essential data (narrative review) on which recommendations could be made for this consensus statement. The results and remaining issues were discussed during three online VTF meetings (30 September, 28 October and 9 December 2021). To get preliminary approval on the remaining issues, a digital survey was sent out to a core review group of eight vitiligo experts. Additionally, two meetings were carried out with this core review group to reach a final consensus based on the answers to the survey. Each statement received unanimous agreement, unless specified otherwise. These results were further discussed in detail with patient representatives and vitiligo experts at the Vitiligo International Patient Organizations Committee (VIPOC) meeting (Amsterdam April 2022) and the Vitiligo Task Force meeting (Milan, September 2022) until full agreement was reached. In total, 18 patient representatives (15 present live and 3 participating online) participated in this VIPOC meeting.
RESULTS
TABLE 1. Phototherapy pearls in vitiligo (Modified table from Mohammad et al. 201716).
Types
NB-UVB (peak 311 nm)

Total body

Early localized or with signs of rapid progression
Active or stable vitiligo (non-segmental)

Targeted

NB-UVB
Excimer lamps or laser: Deliver targeted UVB (peak 308 nm)

Segmental vitiligo
Stable localized non-segmental
Vitiligo (non-segmental) in light skin (time consuming if extensive vitiligo)

Photochemotherapy
PUVA exposes patients to UVA (320–400 nm) after treatment with psoralen

Oral PUVA is no longer recommended for vitiligo and contraindicated in children and pregnancy, has ocular and systemic toxicity, and increases the risk of both melanoma and non-melanoma skin cancer; commonly causes nausea and headache

TOPICAL PUVA

Fewer treatments, smaller cumulative dose of UVA is safe for children; causes blistering and perilesional hyperpigmentation, is less effective at arresting disease activity

KUVA uses khellin as the photosensitizer

PUVASOL: Uses sun light as a source of UVA: Cost effective when machines are not available

Pretreatment monitoring
Routine antinuclear antibody screening is not mandatory but may be recommended for non-photoadaptors61
NBUVB starting dose

For light skin populations: 200 mJ/cm2 for all skin types to avoid phototoxic reactions
For darker skin populations: higher starting doses 400–500 mJ/cm2 are considered

Dose escalation
Each dose is increased by 10%–20% or held depending on the severity of erythema, up to a maximum dose of 1500 mJ/cm2 for the face and 3000 mJ/cm2 for the body
Response predictors
Before starting treatment: Favourable response predictors include paediatric age, location on face and neck, recent disease onset. In contrast, areas with white hair and large, longstanding-lesions and acral areas are not expected to repigment readily

During treatment: The presence of perifollicular pigmentation on dermoscopy is predictive of a positive response to NB-UVB62

Number of sessions

Consider non-responders after 30–48 sessions, some late responders may require 72 sessions63
No consensus about the maximum allowed number of sessions
Ideal frequency is three sessions per week, but twice weekly treatment is also reasonable for convenience

Excimer light
Dosing may start at 100 mJ/cm2 and is gradually increased weekly by 10%–25%19

Three session/week causes faster repigmentation than two sessions/week, but the final response depends on the total number of treatments and not frequency25

Related medications

No topicals are allowed before the session except for mineral oil to help UV penetration of xerotic skin.
NSAIDs helps achieving therapeutic doses for non-photoadaptors by minimizing burns and session interruption70
Sun protection is recommended between the sessions to prevent phototoxicity from additional exposure to the sun

Dose adjustment
Mandatory if the patient misses more than a week of sessions
Stopping treatment
UVB can be stopped abruptly but a maintenance scheme is recommended with topical treatments after stop of UVB. Tapering has also been suggested after complete repigmentation by the phototherapy Vitiligo Working Group: twice a week for a month, then once a week for 1 month, then once every other week for 2 months, then stop12