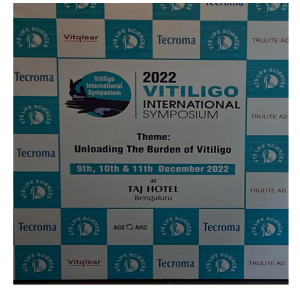 The Vitiligo International Symposium (VIS) was held from December 9th to 11th in Bangalore (India), organized by the Global Vitiligo Foundation (GVF), with the help of Shweta Organization. It brought together nearly two hundred people, doctors, researchers, dermatologists, the greatest vitiligo experts, laboratories, and patients representatives, from all over the world, around the theme: Unloading the burden of vitiligo
"VIPOC was represented by Dr. Maya Tulpule from India, Shweta, Stephen Taylor from the USA, VStrong, Gaone Matewa from South Africa, Beyond Vitiligo and Nicolle Maquignon from the French Vitiligo Association. They had the opportunity to present their different associations, their achievements, and their expectations. They also had the privilege of accessing scientific communications, as well as participating in rich formal and informal exchanges, with the participants during these three days.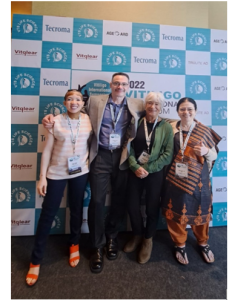 Scientific Presentations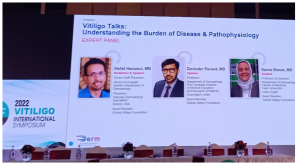 Dr Hamzavi, Dr Parsad, Dr Esmat – GVF
The communications highlighted the complexity of the disease's pathophysiology, including genetic aspects, autoimmunity, environmental factors, and oxidative stress. (Dr Hamzavi, Parsad, Dr Esmat).
Scientific papers have, among others, addressed:
– comorbidities especially with the thyroid (Dr Benzekri- Morocco)
– risk of cancer, lower in people with vitiligo (Dr Singh, India)
– importance of the psychological factors (R Carafello – England)
– correspondence between the distribution at the level of the skin of segmental vitiligo and the subcutaneous course of the superficial arterial vessels (Dr. Gauthier)
– phototherapy (Dr Narayan -Netherlands)
– various tools for measuring disease progression (Vitiligo Diéasse Activity Score – VIDA, Vitiligo Signs Activity Score -VSAS, Vitiligo Extent Scores- VES) (Dr R Mogawer – Egypt)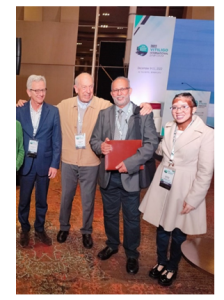 Left to right – Prof Picardo, Dr Gauthier, Dr Raboobee, G Matewa (VIPOC)
Treatments
Numerous presentations highlighted the significant advances in research in the treatment of vitiligo, fulfilling hopes expressed for a long time. This is the case with JAK inhibitors, a very real promise:
Recently FDA Approved: Topical – Ruxolitinib (Jak1/Jak2)
To date the only specific treatment for vitiligo: the results of various clinical trials reveal its good effectiveness on all parts of the body, including the feet and hands – often more difficult to repigment. It can be used alone or better, for optimal benefit, associated with phototherapy, recalls Prof Passeron in his presentation.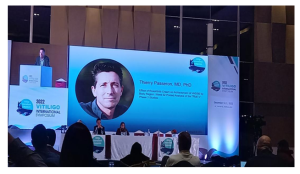 Other treatments under study;
Topicals: Tofacitinib, Cerdulatinib, Cerdulatinib,
Systemic: Ritlecitinib (Pfizer), Baricitinib, Brepocitinib
More specific studies on the feet and hands are in progress, led by Prof Hyun Jeong Ju, (Korea) and Dr Yasmin Tawfik (Egypt).
Other forms of treatment are also possible (laser, grafts, etc.) depending on the specificity of the vitiligo and the patient's expectation. Total depigmentation is also presented as a solution, which must be very carefully considered and requires that the patient be very well informed of its realization and its long term consequences (D M Abdallah – Egypt).
Alternative medicine and vitamin D intake (Prof Grimes -USA) were also the subject of the presentation.
The BURDEN, central theme of this VIS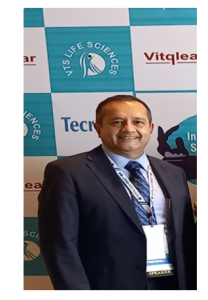 Dr Pandya
Dr Parsad, Dr Pandya and Dr Hamzavi opened the discussion concerning this burden that vitiligo patients suffer. They also discussed its impact on their own quality of life, loved ones, professional and intimate life. Vitiligo can no longer be neglected and must be treated with  care.
An observation and some figures about these "white spots that affect the soul", as Dr Hamzavi said.
Lack of confidence and lack of awareness/information among both patients and doctors.
Great frustration of doctors (nearly 70%) who do not see the proposed treatment succeed, frustration of patients (nearly 50%) who do not follow their treatments (too long, few immediate results)
More than 50% of patients hear during their first consultation "There is nothing to do for vitiligo"
The economic burden of vitiligo is not sufficiently assessed: hospitalization due to comorbidities, mental health, cost of treatment and constraints (example: phototherapy: travel, duration, etc.)
71% of people are worried about the progression of the disease, 57% express a feeling of shame, 55% are sad and depressed or even suicidal, significant psychiatric comorbidities, 25% show a lack of self-confidence
Epidemiological studies and creation of the "Global Vitiligo Atlas"
Professor Ezzedine recalled the importance of epidemiological studies, which is essential for understanding and evaluating the weight of the burden and its impact on the various populations affected by the disease, considering their geographical location (prevalence, stigmatization in certain countries, rejection etc.).
He calls for the development of registries, cohorts, not only in Europe, but worldwide.  Research needs data from patients from all countries/continent.
This could lead to the creation of the "Global Vitiligo Atlas" in order to give official recognition to this "burden" and allow it to be included in a global strategy for the treatment of the disease and the reimbursement of related costs.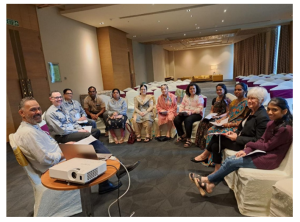 Special workshop with Proff Ezzedine, indian patients (some being Shweta members) and VIPOC representatives.
In 2015, the criteria used by researchers to assess the effectiveness of clinical trials focused on three points: repigmentation, adverse effects and the maintenance of this repigmentation. Other criteria (quality of life, progression of the disease, etc.) have since been recommended, but studies show that these have not always been considered.
The questionnaire "What do you expect from your treatment?" What results are truly meaningful to you?" distributed to the participants made it possible to understand the diversity of their expectations.Their responses were not always in agreement with those of the researchers, and but they brought out the existent unanimity about the impact of the vitiligo on their quality of life – in India, the stigmatization is very strong.
Indeed, for the researchers, it is a question not only of obtaining convincing results as to the clinical efficacy of the treatment but also of considering the experience of the patients, their feelings and their expectations, during and following the treatment.
Surveys must be carried out more broadly among patients (children and adults) and their relatives, to obtain a consensus on a standardization of outcome measures (Core outcomes set) and lead to studies that are easily exploitable by all researchers, and essential for health policy makers.