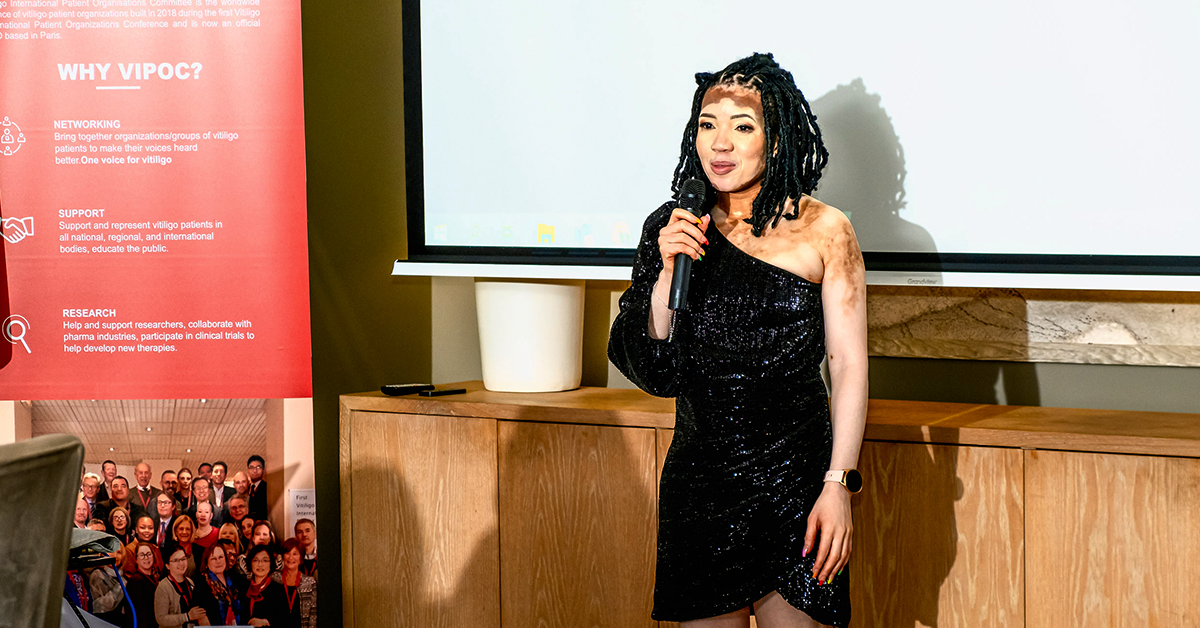 The VIPOC presidential Dinner was a great success. It was an eventful time where good food, great company and breath-taking views were enjoyed. The event took place at the Northcliff boutique hotel, which was a hotel in the mountains located in Randburg, South Africa.
At 6:00 pm, the doors opened, and guests flooded in. They made their way to the outside seating area where they were greeted with wine, juice, and water, while they waited for the program to begin. The event started at 7 pm with a welcome speech from the Master of Ceremony, Kabelo Motau.
Kabelo introduced Mr. Jean Marie Meurant who is the founder and the outgoing president of VIPOC. He shared a few words about what VIPOC does and what they have achieved so far. Afterward, a video played where Gaone had an interview with 5-time bestselling author, neuropsychologist, columnist, and thought leader, Timothy Maurice, where they discussed her hobbies and her vision for VIPOC.
Gaone expressed how honoured she felt she felt receiving the presidency after creating awareness of vitiligo for 12 years. The main visions she expressed was the global representation of VIPOC and strengthening partnerships as well as creating new ones with all stakeholders.
In the video, Gaone shared a bit of the story behind the organization Beyond Vitiligo and what drove her to start it.
When Matewa was in primary school, she had vitiligo and was frequently bullied for it. She felt alone, but when she entered high school, "she felt hot" as the bullying stopped because the vitiligo disappeared. However, after she graduated from university, the vitiligo returned in full force.
She Met Ogo Maduewesi, a Nigerian vitiligo patient and the founder and Executive Director of the Vitiligo Support and Awareness Foundation (VITSAF) and one of the founders of the national World Vitiligo Day, then began a healing journey and this inspired her to start Beyond Vitiligo.
"The more I talk about [vitiligo] the more I feel much better. The challenges make you stronger because you learn from what you are lacking and what you need to focus on to get your stuff moving. I'm very happy I didn't just leave [Beyond Vitiligo] as an idea but I did something about it" Matewa said.
She appreciated her husband and described him as her "favourite person in the room" and she reflects on the times she and her husband (Alvin Matewa) would stop people in the malls encouraging them to join Beyond Vitiligo. She states that she is happy to reach this new milestone and imagines writing to her 10-year-old self to show her how far her courage took her .
After the video her husband shared a few words. He shares the story of how they met which wasn't far from where the hotel was situated and reflects on the Beyond Vitiligo and VIPOC journey.  He talks about how instrumental Gaone has been in participating in research on vitiligo treatments; partnering with pharmaceutical companies to assist with research on new treatments and providing the latest research on everything about vitiligo, all over South Africa and across borders.
He articulates that he has personally gotten to see her grow into a mature leader over the past several years and that as a husband, he is very proud of her accomplishments. He expresses his pride for her and says he wishes her the best and reminds her that he is supporting her.
One of the directors of Beyond Vitiligo, Roslyn, gave a touching speech about how she met Gaone on Facebook and how proud she is to have been invited to participate in this special night and be "part of the family". She claims "God sent her at the right time" about Gaone because she provided support for Roslyn when needed someone else by her side during her difficult time with vitiligo.
The dinner included a few words from Leleti Khumalo and a video of Gaone's journey so far. Leleti Khumalo is a South African actress known for her roles as Sarafina in the movie Sarafina! as well as for her appearances in other motion pictures like Hotel Rwanda, Yesterday, and Invictus. She also appears in the serial soap-opera Imbewu: The Seed as Nokubonga "MaZulu" Bhengu.
She accentuates how special Gaone is, how she deserves to be in this position, and that "this is the very beginning" of a great journey.
The evening featured a video speech by Ogo Maduewesi. Ogo has over 10 years of expertise and a successful track record in the social sector. She is a determined social entrepreneur, patient leader, changemaker, and pacesetter. VISTAF collaborates with vitiligo patient organisations in Sub-Saharan Africa. VISTAF cares about the mental and social well-being of Nigerians who live with vitiligo.
Maduewesi spoke about meeting Matewa in 2005 and reflects on their journey with vitiligo. She says she's proud of her and thanks Gaone for all she does. Maduewesi also mentions the changes Gaone's inauguration is making not just for South Africa, but for Africa as a whole.
The next to speak was Dr Thandiswa Ngcungcu, the first black woman in South Africa to be working with vitiligo. She spoke about a survey she is conducting about the genetic aetiology of vitiligo in Africans that she started in 2020 and encourages suitable people to participate.
At the end of the evening, Gaone thanked everyone for their support. She mentions a lot of work that needs to be done concerning vitiligo in Africa. She praises Lipsano lip care and Everysun sunscreen for their support. She commends Alvin for being a great support system. She also thanks her mom for teaching her courage and her two sons whom she teaches how to be kind and gentle to people who are different.  She, once again, underlines the importance of vitiligo representation all over the world. Lastly, Gaone also mentioned that she is looking forward to working with the new board in achieving VIPOC's goals and thanked the board for giving her the opportunity.
Attending the evening and breezing through the goodie bag will leave you feeling inspired to conquer and achieve your dreams. It was a pleasure to attend the event and meet some of the women who are working hard to make a difference in the vitiligo community. A lot was learned from their stories, and it was inspiring to see African women represented in high positions in the vitiligo community not just to other women, but to little girls as well.